April 2, 2012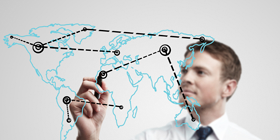 Business Process Re-engineering
Better, cheaper, faster!, our business process reengineering (BPR) efforts focuses on improving process of client. By using structured techniques to evaluate what gets done, how it gets done, why you are doing it, and how to do it better, our BPR services can generate efficiency and effectiveness for your organization. For a Shared Services implementation, the primary goal of our BPR is to create a standardized set of streamlined processes that can be deployed across the organization. When this streamlining occurs, the resulting improved efficiency and quality is extremely valuable to the organization.
If you are having any of the following challenges, you definitely need our BPR services.
Everything takes too long, but it is difficult to understand why.
Consumers of the process call in personal favors to reach the desired outcome.
People executing the process are unhappy and/or cynical.
Valid status information is hard to get.
Measurements are not very meaningful.
Costs are hard to control.
A BPR implementation fundamentally transforms the way work is performed by re-thinking old processes, procedures, practices, and policies. BPR helps meet organizational objectives by examining how work is performed and identifying opportunities to streamline efforts. For many Organizations, process improvements lie not only in streamlining the current process but also in introducing new technology.
In many cases, a company, and even departments within the company, has its own unique processes. With our BPR services, common processes can be standardized and streamlined. Building these common processes into the new systems development links business and stakeholder objectives and thus enables continuous improvement as processes are refined and redesigned.
Globally business process modeling and management applications are high priority emerging technologies. Catering to the diversified IT requirements, we use the latest technologies to develop, re-engineer, automate and/or integrate processes by building on innovative business ideas. We undertake the following tasks to make software technology work for our clients:
Business Processes Consulting.
Determine new technology outside of the client's industry.
Compare client's technology with the best in its industry.
Suggest, develop and implement the best solution.
Integrate and automate client's work flows and business processes.
Check commercial viability of client's existing technology.
Maven Solutions excels in providing strategic IT consulting services, both to Private and Government organizations, to automate their business processes and work-flow management and to maximize the Return on Investment. Our expertise and skills set enables us to deliver state-of-the-art IT solutions to satisfy the diversified needs of major market verticals globally.