Maven EMS
Maven EMS is an Enterprise Management Suit, which is fully integrated e-business solution to address the unique challenges of growing process of any Organization. This system shall be helpful in managing the variability of materials and processes to increase inventory and work efficiencies to enhance responsiveness to customers and will provide timely information to management for planning and decision-making.
This system shall be helpful in managing the variability of processes to increase productivity and work efficiencies to enhance responsiveness to the stakeholders and will provide timely information to management.
Following are few highlights of Maven EMS.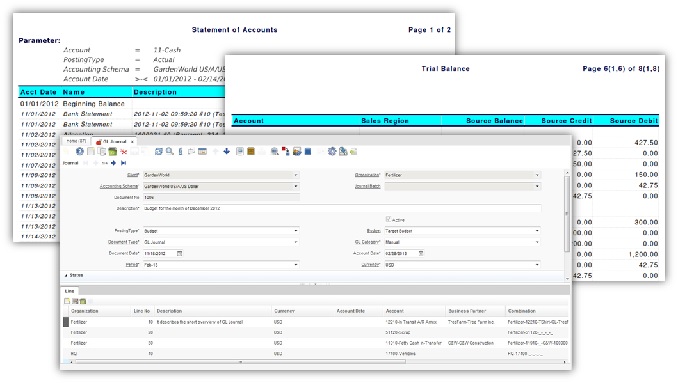 Finance Management is the foundation of the Maven EMS. Its built-in flexibility meets both the current and future financial needs of organizations of all types and sizes. It provides a robust feature set designed to meet even the most demanding budgeting and processing needs. It can be customized by using the many tools inherent in the system, including a built-in financial report generator that provides a timely picture of the company's fiscal activities.
General Ledger fully integrates with all Maven EMS's modules and is the key to maximizing the efficiency and accuracy of the financial data. It also runs through a standard Web browser, so the user can design and view financial statements - anytime, anywhere - using a Web browser.
Features:-
Flexible account structure.
Extensive comparative and historical data.
Financial reporting.
Multi-currency.
Pure Web-based or traditional Client/Server architecture.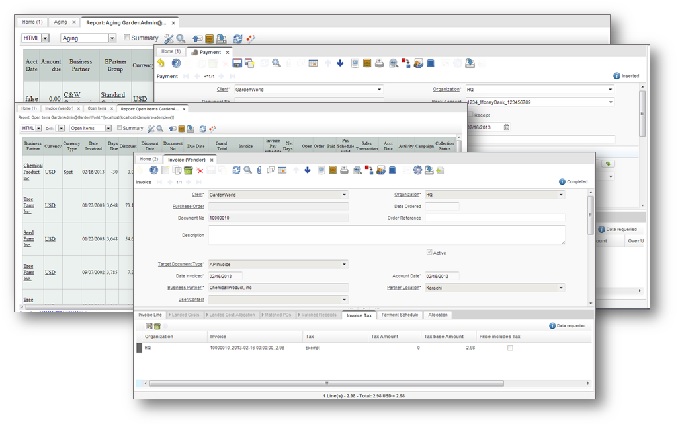 Accounts Payable Module records invoices for payments to vendors as well as other types of payments such as check requests and travel expense reimbursements.
MavenEMS's Accounts Payable module is comprehensive and scalable accounts payable solution to automate your accounts payable processing in a way that offers you greater convenience and control. That control frees you and your staff from mundane tasks, giving you more time to focus on business strategies, yet approval processes and authority are clear and well defined.
Features:-
Supplier's profiles and Invoices.
Payments.
Postdated Check Maturity.
Un-Adjusted Pre-Payments.
Credit/Debit Notes.
Ledger.
Aging Summary.
Aging Detail.
Purchase Registers.
Bills w/o Goods Receipts.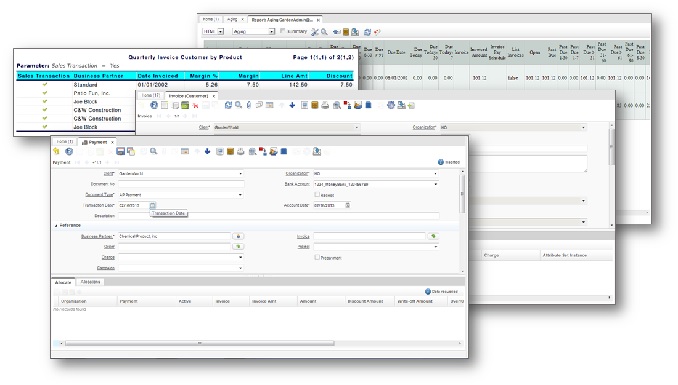 Accounts Receivable Module facilitates invoicing, collecting, and tracking of receivables, as well as revenue recognition for fees, charges and expenses and other types of income or receivables. This module provides the ability to define multiple invoicing component items by customer. Invoices may be produced in customized formats on flexible schedules.
Features:-
Aging Summary.
Aging Detail.
Receipts.
Customer Activity.
Customer Ledger.
Pre-payments.
Commercial Invoices.
Sales Tax Invoices.
Outstanding Invoices.
Post-Dated Checks.
Multi-Taxes.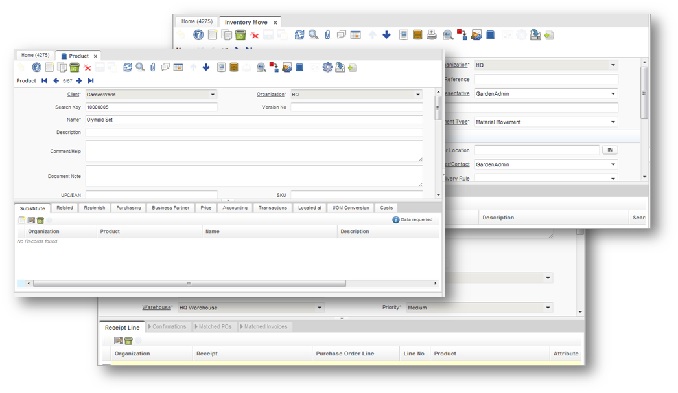 The Materials Management module addresses a broad range of issues around your material inventory: products, price lists, inventory receipts, shipments, movements, and counts within a company, its organizations, as well as to and from suppliers and customers. This system can keep up-to-the-minute status of all the inventory items and stock levels at multiple Warhouses and Stores.
Features:-
Catagories and Product Management.
Stock Levels and Price List Management.
Flexible Inventory Locator Structure.
Physical Inventory, Internal-Use Inventory and Inventory Reconciliation.
Goods Receipt Note, Goods Delivery Note and Material Relocation Note.
Stock Ledger, Stock Report and Stock Activity Trackers.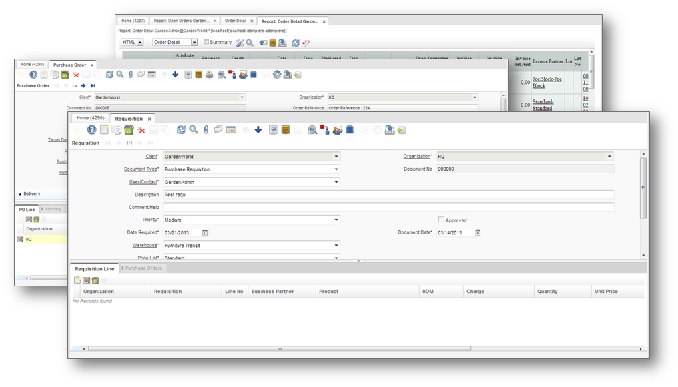 Procurement module provides complete procurement control to generate and track purchase orders from PO issue to Material Receipts. The Purchasing module provides controls for the complete procurement process, from vendor quoting through receiving, inspection, cost accrual and vendor payment.
Vendor quotes are collected against items with multiple vendor price comparisons used by the system to recommend vendor selection for each purchase order. Users can enter requisitions. Once approved, requisitions can be automatically converted to Purchase Orders. An item may be received directly to a line stocking location.
Features:-
Purchase Requisition.
Request for Quotation (RFQ).
Supplier Quotations.
Purchase Orders.
Outstanding Purchase Orders.
Requisitions not converted to Purchase Orders.
Replenishment.
Purchase Order Register.
Requisition Register.
Open Requisition.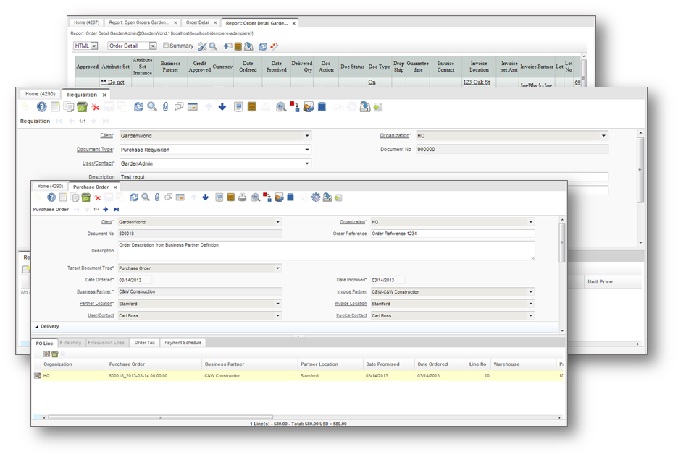 Taxation Module is a user friendly Module that is designed to help the submission of various tax forms, returns, statement on time to the relevant authorities without spending extra time for filling these forms and returns.
Taxation module allows update as and when any changes implement by such authorities. It is ensure that in case of any change in such laws, the same will be updated on timely basis.
Features:-
Integerated Tax Management.
Withholding Tax Management.
Tax deduction at source handling.
Weekly Fortenightly, quarterly, bianually and anuall tax statements.
Tax Returns and Tax Registers.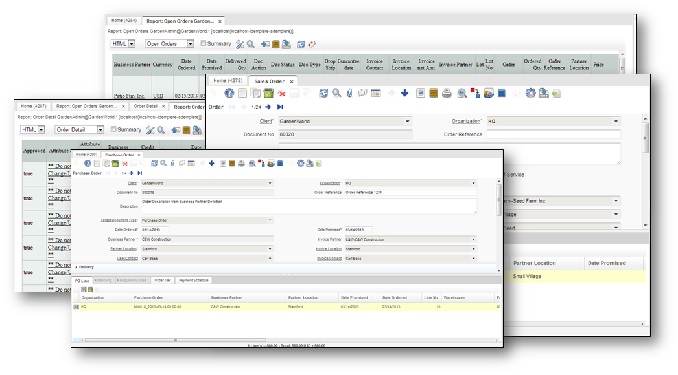 Sales module is designed to help improve customer service and evaluate sales and marketing activates. It is ideal for any company in the distribution, engineering, and make to order, repetitive or process environment.
Sales is not an independent module in MavenEMS, but a logical view of all customer and prospect related activities. Sales functions are an integral part of the business process. As a result, there are no batch or synchronization processes for the back office functionality as is frequently required to integrate CRM and ERP systems.
Features:-
Sales Quotation to Invoice Automation.
Proposals and POS.
Sales Order and Work Order.
Invoicing and Shipment.
Open Orders and Back Order Tracking.
Sales Person Performance Tracking.
Sales Campaign Management.
Invoice and Order Registers.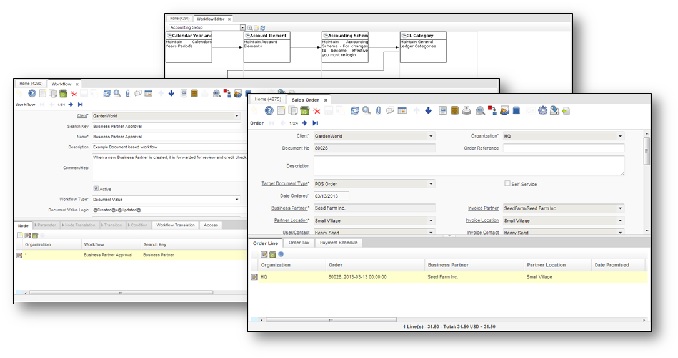 Workflow Management will be used to automate and regulate Organization's business processes via sets of procedural rules using eAlert module to notify employees, customers, suppliers and other business associates. Workflow Management will enable the management to define uniform set of procedures for all functions of the Organization and the system will ensure that all procedures are followed to complete the task. Consistency in the processes leads to greater predictability in levels of response to customers. Focus on business processes leads to their streamlining and simplification. With workflow, processes are simple, fast, and uniform.
Features:-
Automation of Business Processes.
Elimination of Un-necessary Business Processes.
Approval Levels with Business Documents.
User Role and Approval Level Integeration.
Automated Email and SMS Integration.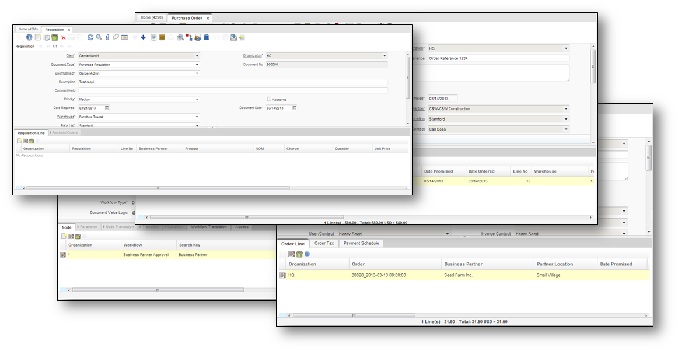 Import module enables you to manage your import activities for the most efficient, cost-effective procurement of raw materials, goods, and services. Maven EMS also enables you to manage disbursements efficiently while keeping strong controls over matching, approval processes, and payments. The general purpose of Maven EMS is to assist in timely and cost effectively purchasing all sorts of materials and generation of reports.
Features:-
L/C Tracking.
Import Charges before Material Receipt.
Multiple Material Receipt against one L/C.
Import Charges on Shipment Level.
Duty and Charges on Item level - at the time of ex-bond.
Cost Sheet (Landed cost item-wise and Consignment wise).
Import Register.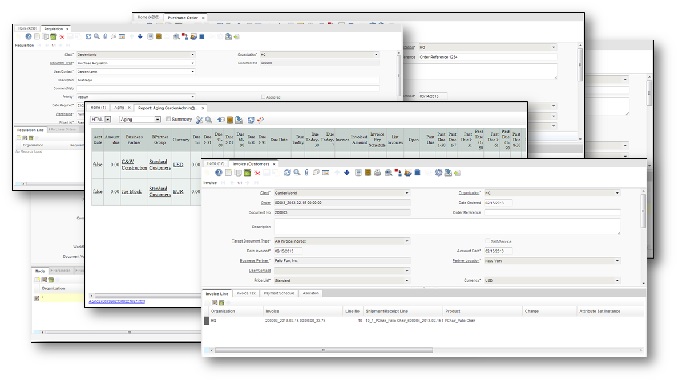 MavenEMS's HRM is comprehensive and powerful, yet flexible HR Management software that is easy to learn and use. The inviting and straightforward information screens mimic your unique processes and requirements - and a wealth of reporting power consolidates, compares, and helps you analyze your activities and trends.
Features:-
Recruitment Management.
Employee Profile Management.
Attendance and Leave Management.
Employee Transfer and Trainings.
Final Settlement.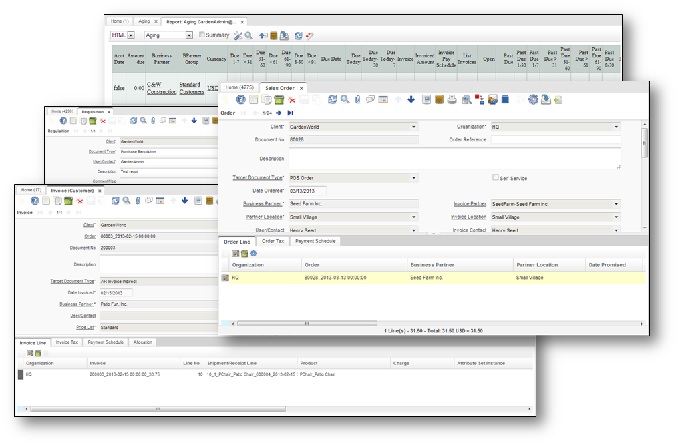 MavenEMS's Payroll Management simplify the payroll process for businesses. It ensures that your people are paid correctly, on time, every time.
Getting payroll right is fundamental to a more productive workforce, fewer enquiries and lower administrative costs. Automated rules-based processing reduces cycle times, simplifies set up, eliminates errors and means you can respond quickly and efficiently to change.
Our Payroll Management System ensures accurate and timely labour costing so businesses can effectively manage expenditure against budget, monitor project and activity costs and set charge rates. Managers can feel confident that cost data is accurate and reliable and can be used to make decisions.
Features:-
HR Integeration.
Flexible Salary Periods (Weekly, Monthly and Fortnightly).
Payslip/Paysheet.
Automated Check Printing.
Increments and Bonus.
Loans and Advance Management.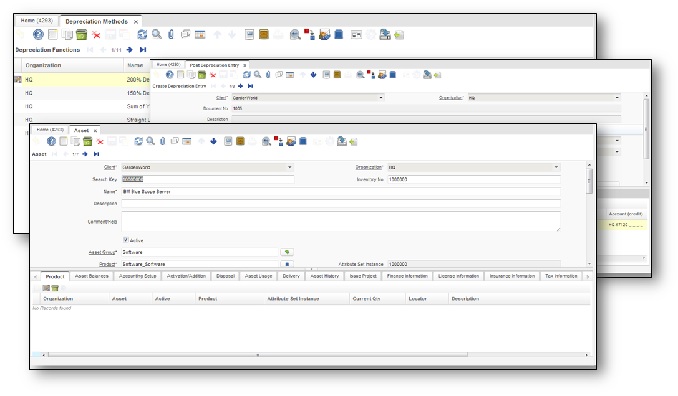 Fixed Assets module is a user-friendly, full-featured system that saves company's precious hours by organizing, maintaining fixed-asset records, maximizing the controls and generating up-to-the-minute reports when they are required.
It ensures that the organization makes all the depreciation entries with a click of a button whether it is Straight Line or Method. It controls complete asset handling from acquisition, transfer, adjustment and write off to disposal.
Features:-
Central Assets Database.
New Asset Aquirement and Transfers.
Asset Adjustment.
Asset Write Off and Disposals.
WIP Asset Management
Capitalization and Revaluations.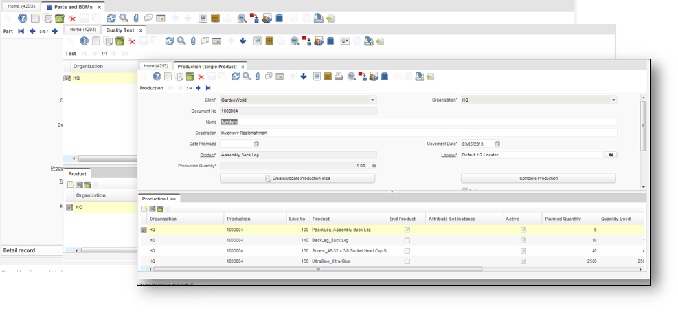 Plant and General Maintenance module provides an integrated solution for supporting operational efficiency. The plant and maintenance module includes entire family of products covering all aspects of plant/machine maintenance and becomes integral to the achievement of process management. This module covers all routine tasks related to Plant and General Maintenance.
Features:-
Planned and Routine Maintenance
Breakdown Maintenance (Time Calculations, Resouce Data, Job Status and Completion Report).
General Maintenance for A/C Units, Lifters, Splitters, Crushers and other Assets.
Warranty Claim Process.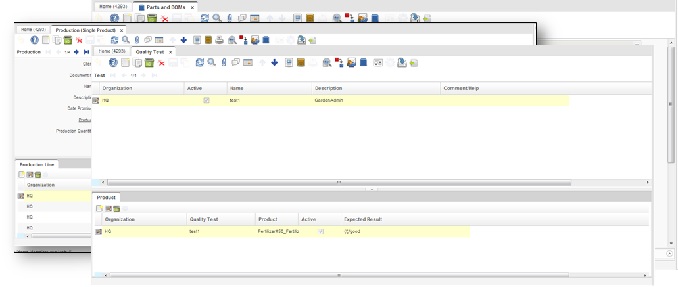 Manufacture in-house or with partners, you must make products that will meet constantly changing customer demands. Maven Solution's manufacturing module gives you the flexibility and functionality you need to choose the best method to manufacture each of your products, drive continuous process improvement, lower operating costs and manufacture to regulatory compliance. Maven Solution's manufacturing module will also extend the capabilities in back tracking a product. This carries an enormous amount of importance in today's Quality manufacturing practices.
Features:-
Manufacturing Order/Plan
Item Engineering.
Bill of Material.
Work in Progress.
Finished Goods Stock (Update Inventory).